Description: Embraces the needs, goals, and outcomes of the growing Hispanic population in the US by creating dual-immersion initiatives in local schools, and documenting the effectiveness of bilingual education in producing linguistic and cultural gains in Spanish.
Mission-Driven Research: Dr. Stephen Fafulas on Embracing the Needs of North Carolina's Hispanic Community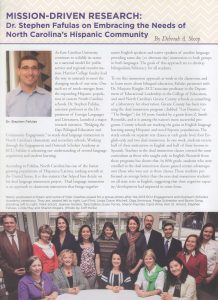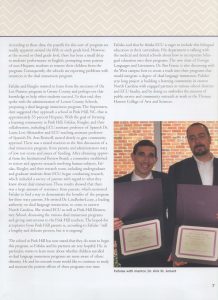 My first year as a tenure-track professor, I was selected for the Engagement and Outreach Scholars Academy at East Carolina University. Through that program, I developed a project that  incorporated members of the growing Hispanic population of the region in a dual-language immersion program in a local elementary school. My design included cross-departmental collaboration and student research assistants, as well as teachers, educators, and administrators from the school district. I am working on a manuscript that offers results of an anonymous survey distributed in this community, revealing negative attitudes toward Spanish by the non-Hispanic parents of children at the same school.
Ongoing Projects
Community Partners: Pink Hill Elementary, AMEXCAN, and East Carolina University
This project incorporates community members of Hispanic and non-Hispanic origin, and East Carolina University faculty and students, in a learning community that is evaluating a program for Spanish immersion in kindergarten and 1st grade in Pink Hill Elementary.
ECU Faculty Members
Dr. Stephen Fafulas, Department of Foreign Languages & Literatures
Dr. Marjorie Ringler, Department of Educational Leadership
Presentations:
Fafulas, S., & Ringler, M. (2015, October). Dual-Language Immersion Research in eastern NC. Foreign Language Association of North Carolina. Durham, North Carolina.
Fafulas, S., Ringler, M., Levi-Altstaedter, L., & Borisoff, A. (2015, February). Barriers affecting the implementation of a dual language immersion program in rural North Carolina. Spanish Linguistics in North Carolina. Greenville, North Carolina.
Publications:
Fafulas, S. (In preparation). Attitudes towards Spanish in the rural South: Dual Language Immersion in eastern North Carolina elementary schools.
ECU Student Engagement and Outreach Scholars Academy (SEOSA) Assistants
Trista Locklear Davis
Trista L. Davis graduated from the University of Mount Olive, received her Master of Business Administration from Central Michigan University and is currently working towards her Master of School Administration as a North Carolina Principal Fellow at East Carolina University. Trista plans to become a Principal in the near future with future endeavors of working toward earning her doctorate in Educational Leadership.
Kristen Nicole Fulcher
Kristen Fulcher is a sophomore majoring in Biochemistry and Hispanic Studies. At East Carolina University, Kristen is an EC Scholar and a member of the Honors College. After graduating, she plans on attending medical school in order to obtain a Doctorate of Medicine (M.D.) and become a surgeon. Kristen is interested in Hispanic Studies because she aspires to be fluent in Spanish so that she can communicate with Spanish-speaking patients she may have when working as a surgeon in the future. She also works as an undergraduate researcher in the biology lab of Dr. Ables at East Carolina University.